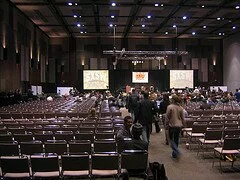 Facebook is dramatically redesigning its users' profile pages to create what CEO Mark Zuckerberg says is a "new way to express who you are."
Zuckerberg introduced the Facebook "timeline" Thursday in San Francisco at the company's f8 conference for some 2,000 entrepreneurs, developers and journalists. The event is also being broadcast to more than 100,000 online viewers.
The timeline is reminiscent of an online scrapbook, with the most important photos and text that users have shared on Facebook over the years. It's Facebook's attempt at growing from an online hangout to a homestead, where people express their real selves and merge their online and offline lives. The timeline can go back to include years before Facebook even existed, so users can add photos and events from, say 1995 when they got married or 1970 when they were born.
Zuckerberg took the stage after a humorous skit, in which Saturday Night Live actor Andy Samberg impersonated him. The real Mark Zuckerberg looked considerably more playful and at ease than he has in past events, suggesting he is growing into his role as the public face of Facebook.
But he quickly got down to business as he introduced the timeline as "the story of your life – all your stories, all your apps and a new way to express who you are."
Expanding on its ubiquitous "like" buttons, Zuckerberg said Facebook will now let users connect to things even if they don't want to "like" them.
"We are making it so you can connect to anything you want. Now you don't have to like a book, you can just read a book," he said. "You don't have to like a movie; you can just watch a movie."
Check out our live blog from f8 to read about the biggest announcements as they happened.
New 'Cover' Photo - While past iterations of the Facebook profile have featured a customizable photo that sat near the upper left of the page, users can now top their profile with a large "Cover" photo that stretches across the user's Timeline. This will be in addition to the Profile Picture, which will act as an avatar of sorts for News Feed updates and posting on others' walls.
New Layout For Updates Posted - The Timeline is wider than the old profile and displays content in two columns. Posts appear in a continuous stream in chronological order, from top (most recent) to bottom (oldest). The layout is very visual and emphasizes large pictures and important events.
Yearly, Monthly Navigation - The Timeline will feature a navigation panel along the right side of the page. This list of years, which can expand to display months, allows users to quickly jump to a spot in their timeline and view their posts from that moment in time. You can also manually scroll up and down through the timeline to search activity by month and year.
Mobile Interface - The new mobile interface on the Facebook app will also feature the Timeline re-design.
Private Log - The private log stores all your facebook activity so you can choose what to share in your timeline and with whom.
Apps In Your TImeline - Apps–including what you're listening to, reading, cooking, watching, etc.–will showcase your interests and activities in digest form so that friends can quickly catch up on what you're into and share with you simultaneously. For example, if you're listening to a song on a Rdio that's synched with Facebook, that activity will appear as an update in your friends' Ticker widget. That friend can then click your update, start listening to the same song, and even chat with you while doing so.
Release In "A Few Weeks" - Timeline won't be available to users for "a few weeks," so savor that old profile while you still can (or start to get excited for the new one!). Read more about the new Facebook at their official blog here.
Source :- http://www.huffingtonpost.com
Related articles
Bits: Facebook Unveils Timeline View and Media Partnerships (bits.blogs.nytimes.com)
Facebook's Zuckerberg unveils revamped profile: Timeline (zdnet.com)
Facebook Timeline Redefines User Profiles (mashable.com)
Facebook Announces Timelines and Improvements to Open Graph (hubspot.com)
Facebook redesigns profiles, adds 'timeline' (seattletimes.nwsource.com)
Facebook debuts Timeline, a dramatically new kind of profile (gigaom.com)
Related Posts :
Freelance Web Developer