Users may love Twitter for its brevity, but nowFacebook is taking the opposite approach by increasing the character limit on status updates to a whopping 63,206.
Check out the chart below that reveals the history of the social network's status update.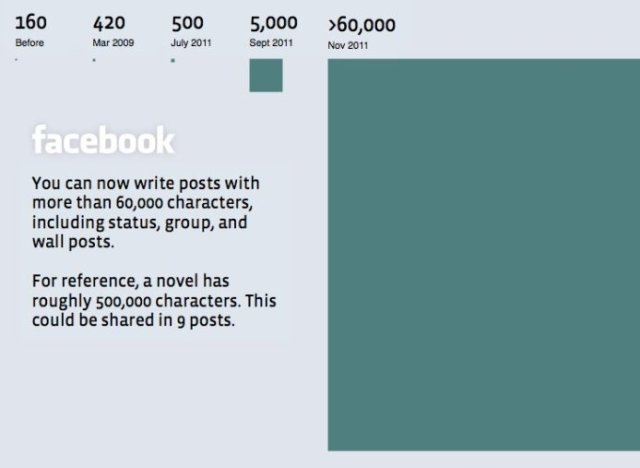 Facebook's Journalist Program Manager Vadim Lavrusik announced the change in a blog post Wednesday:
In September, we increased the character limit on status updates to 5,000 characters. Today, we're announcing that you can now write posts with more than 60,000 characters.
For budding novelists out there, Facebook calculates it would take nine complete status updates to reach the typical novel length of 500,000 characters.
While 60,000 characters may seem like a long status update, ZDNet points out that it still doesn't go as far as Google+, which allows up to 100,000 characters.
Image Source :- http://www.huffingtonpost.com
Related articles
Your Facebook Status Update: The New Way To Write That Novel (huffingtonpost.com)
Facebook increases limit for status updates to 63,206 characters (digitaltrends.com)
Related Posts :
Freelance Web Developer