Windows 8, which was fully unveiled at the Windows Build Conference in Anaheim, California, is here, and it looks much,
much different from Windows 7. Sure, it has the start-bar-and-icon "Desktop" look that Windows users are familiar with, but it also has a new, touchscreen-optimized interface called 'Metro,' which looks more like the Windows Phone operating system and which looks like the future of Microsoft Windows from here on out.
The touch-optimized interface was all Stephen Sinofsky, President of Windows, and Julie Larson-Green, Corporate Vice President of Windows, were talking about when they showed off Windows 8 to developers at the conference. (They did not, however, mention when the new OS would be available to users.)
Here are some screenshots of the new Windows 8 from Sinofsky and Larson-Green's presentation, along with explanations of the newest features and interfaces that users can expect on their new tablets and PCs.
Lock Screen - The new lock screen for Windows 8, which appears after you put your computer to sleep or restart or lock your computer. Notifications such as new email alerts, Wi-Fi availability and other essential, user-chosen information will be pushed to this screen.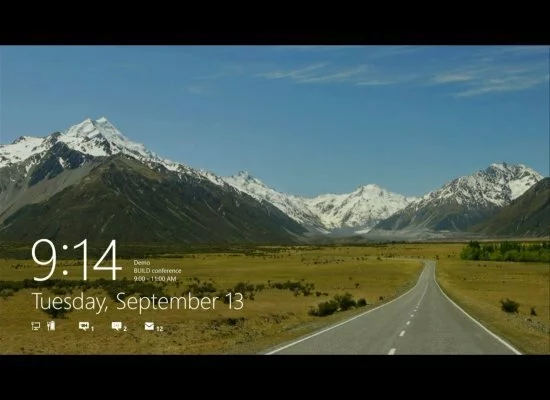 Start Screen - Here is the start screen in the 'Metro' view (the classic start bar "desktop" view is still available). Users can scroll side-to-side, much as they would on an iOS or Android phone, for different groups of applications. Immediately to the right of this homescreen is the media hub (seen above).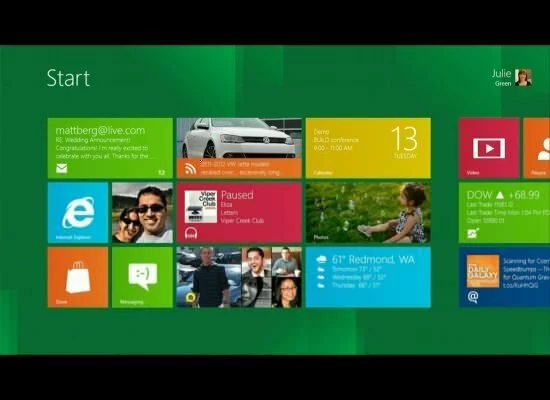 Grouped Apps - Users have the option to categorize their apps into genre or function. Sinofsky and Green showed off a Media category, Games category and social networking category.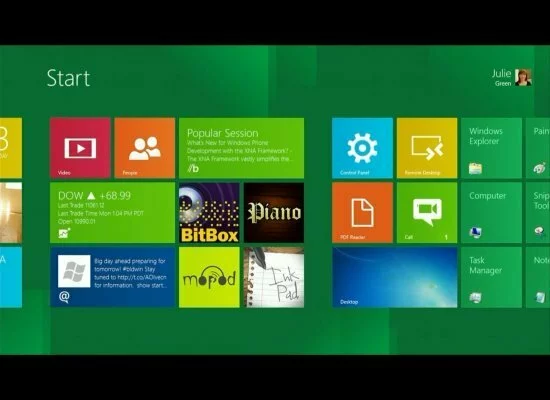 Zoomed Out View - Users can zoom out from this view to see all of their apps at once. This is also where you can move entire blocks at a time closer to the homescreen. For example, if you want Games immediately next to your homescreen, or on the homescreen itself, you can pick up the entire block and drag it to the left.
On Screen Keyboard - Emphasizing touchability, a demo of the Windows 8′s on-screen keyboard was shown to pop up with the scroll of the thumb. The new Microsoft OS still works, of course, with mouse and physical keyboard, but this is an option for those on tablets or touchscreen PCs.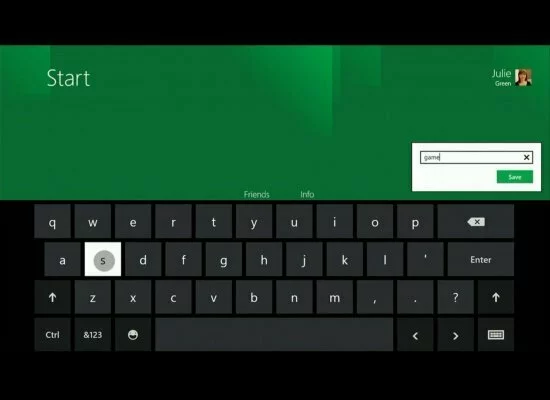 RSS Feed - An RSS reader in Metro view–very scrollable and visual.
RSS Feed – Expanded - An expanded view of the RSS feed. Users can scroll up and down within articles or left and right to switch between articles.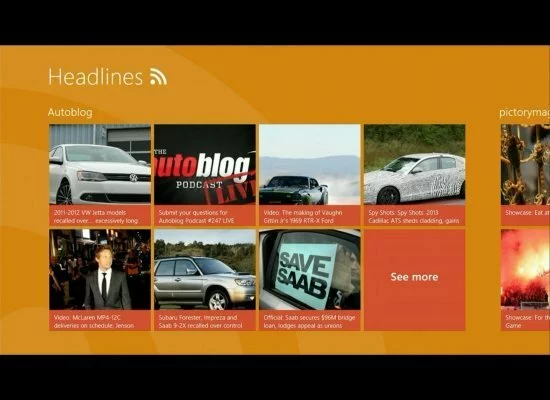 Social Network - A view of a hypothetical social network, in a pane interface. You can see the news feed pane on the left and the full view on the right.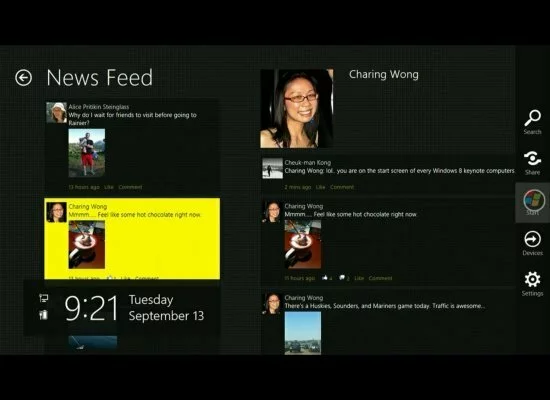 Video Player And Settings - While playing a video of paragliding, Julie Larson-Green turned up the volume via in the collapsible sidebar settings panel.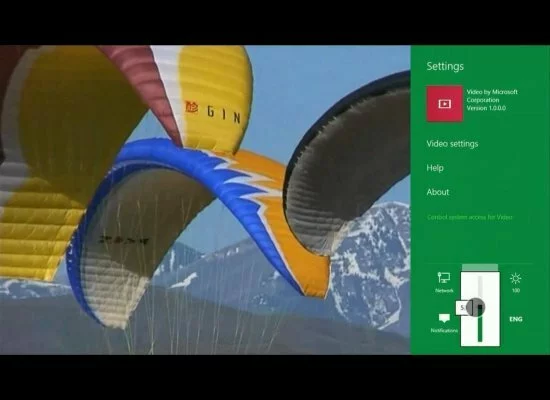 Multi-Tasking – News Feed And Video - You can view two apps or windows at once on your tablet by dragging them together and letting them "snap" together. Seen above, a scannable News Feed flanks a paragliding video, letting the viewer work while enjoying media entertainment.
Newly Opened Tab In Internet Explorer - Starting up Internet Explorer in Metro mode. Here you can see the Most Visited pages and Favorites pinned to the page.
Internet Explorer With On-Screen Keyboard - Typing a web address into Internet Explorer using the on-screen explorer.
Webpage In Internet Explorer
The 'Share Charm' - The 'Share Charm' icon sits on the Start bar. When you see something within an app you want to share, pull out the start bar and click 'Share".
Share Charm (Continued) - Select a piece of text, image, video or whole webpage and choose a contact in your address book you want to send that information to.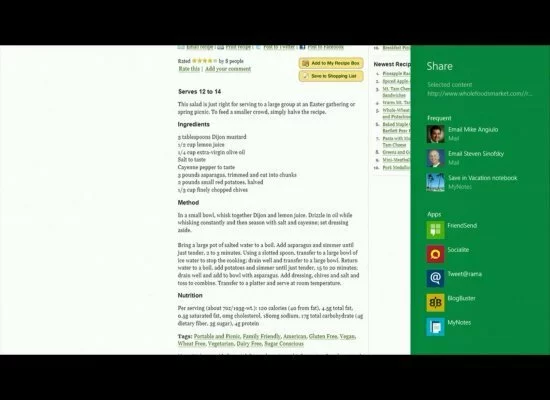 Universal Spell Check - Green didn't mean to, but she showed off another new feature of Windows 8 (also recently added to Lion OS X): Universal Spell Check, which proofs words typed in any Windows 8 app.
Universal Search - Speaking of Mac, Windows 8 will have a spotlight-style universal search, which will let the user browse through the entire system for a search query.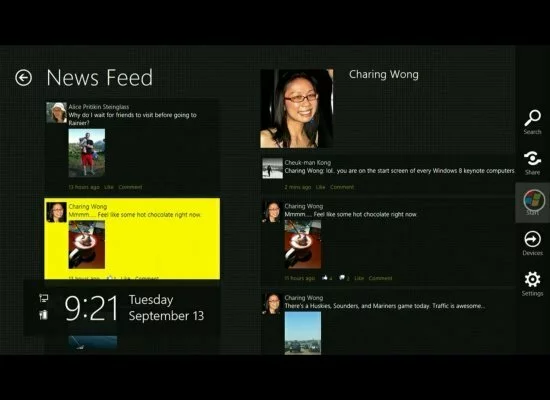 Universal Search (Continued) - The search bar can also scan through any of your apps, including apps like Bing that search online.
Source :- http://www.huffingtonpost.com
Related articles
Microsoft Launches Windows 8 (bestalan.wordpress.com)
Microsoft unveils Windows 8 software (news.consumerreports.org)
Related Posts :
Freelance Web Developer