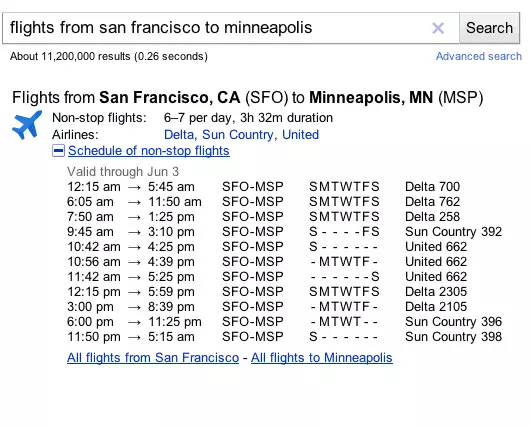 We know that Google has big ambitions for flight search, as the search giant dropped $700 million on travel search software developer ITA Software. Today, the company just announced a few new flight search features that have been integrated into search (but do not use ITA's technology….yet).
Now, when you search for a destination on Google, you can see which airlines serve that specific route and when they fly. For example, if you search for flights from 'New York to Chicago,' you'll see schedules of all the non-stop flights that serve that route, which airlines fly, and times. You can access the full timetable by clicking on "Schedule of non-stop flights."
You can also see all the destinations with non-stop flights from a particular airport. So if you are in Chicago, you can search for 'flights from Chicago' and Google will show you a number of routes from Chicago's airports and which airlines fly from the airport. Similar to the schedule feature, if you click "Show all non-stop routes," you can get the full list of destinations and from there, you can click to get more flight details.
In the post, Google software engineer Petter Wedum writes that the company is 'eager to begin developing new flight search tools' that are integrated with ITA's software. Of course, the DOJ has mandated a number of conditions that Google has to abide by with regard to ITA's presence and integration into the search company. It should be interesting to see what Google has up its sleeve for travel and flight search.
Source : – http://techcrunch.com
Related articles
Google Starts Adding Flight Schedules And Airline Routes In Search (techcrunch.com)
Google starts adding flight schedules in search results (lookatvietnam.com)
Google Launches Flight Search Feature (Not Powered by ITA) (webpronews.com)
Google Adds Flight Schedules to Search Results [In Brief] (lifehacker.com)
Google Unveils New Travel Search Feature, Does Not Include ITA Features (nytimes.com)